This detachable planing system radically improve the performance of inflatable boats, increasing speed and acceleration 25% to 45% and planing weight capacity up to 30%, while decreasing fuel consumption by over 25%. Boats having insufficient power or carrying heavy loads can now plane or achieve higher planing speeds. They are specifically designed and patented for boats with over seven years of development and testing to yield maximum performance with the following advantages: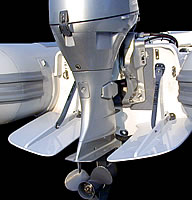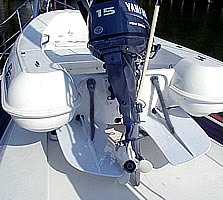 Why Use Them?
• Helps boats from 7 to 15 feet in length and up to 60 HP engine perform better.
• Less drag and far superior performance than hydrofoil devices
• Accelerate and plane quickly without moving weight forward
• Stay aft for safer motor control and boat stays level for comfort
• Reduce proposing, hopping and prop ventilation at high speeds
• Plane faster on top of the waves with a smooth cushioned ride
• In the roughest of conditions plane slower for more comfort
• Carry weight aft for greater stability and speed with less spray
• Execute tighter turns while maintaining speed and control
• Eliminate transom engine torquing for more in-line power
• Spray plate eliminates lower unit spray and transom dousings
• Maintain proper engine RPM for less deposits and plug fowling
• Large motors turn freely with partial horizontal swiveling
• Reduce transom turbulence and drag when trolling or rowing
• Increase boat's traveling range while saving on fuel
• Less wake and better transitional speed control
• Less drag when towing empty boat and with motor
• Won't snag on kelp or weeds like hydrofoil devices
• Counteract towline torque for fast controlled towing
• Won't affect boat or motor storage like other devices
• Simple to install and attach or detach in seconds
• Works with wood, aluminum or air floor, all roll-ups
• Can be left in the water and growth wipes right off
• Made of unbreakable UV resistant polypropylene
• Corrosion resistant SS and anodized aluminum
• Used as skids to drag up sandy beaches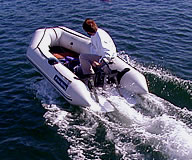 Shipping via FedEx ground shipping within the contiguous U.S. Please contact us for international shipments or to Alaska and Hawaii.